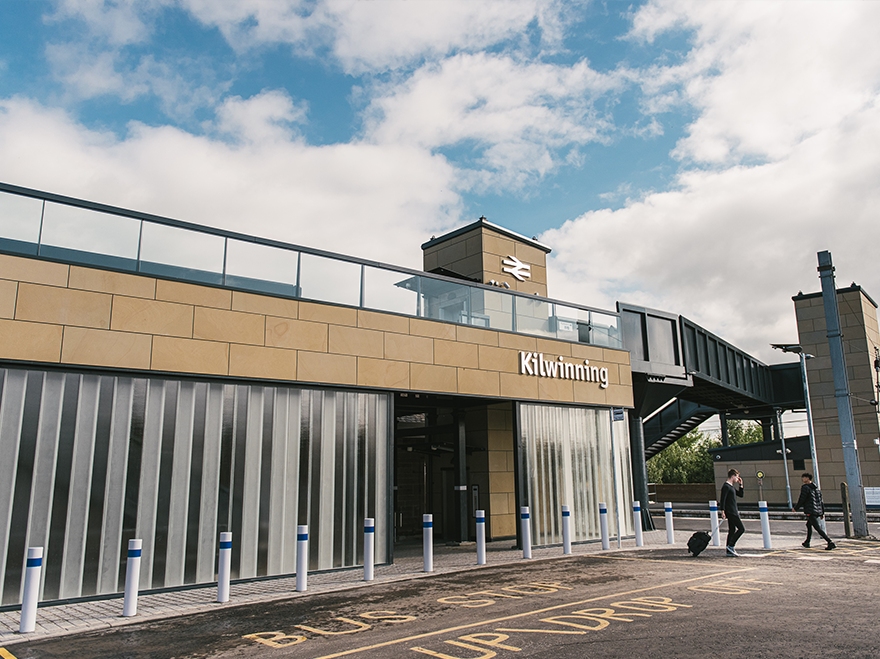 The Kilwinning Station Access for All (AfA) scheme has been shortlisted for the 'Excellence in Transport Accessibility' award at the Scottish Transport Awards.
On behalf of Network Rail, Story Scotland transformed the North Ayrshire station in 2019, delivering a three-span footbridge with lifts and stairs to give step-free access to all platforms and significantly enhance the journey experience for those with impaired mobility or travelling with children, luggage or bikes.
Steven McVey, Scheme Project Manager said: "What was a technically challenging project due to the layout of the station and the scale of the structure required, the team worked around the clock to successfully deliver the works to make the railway easily accessible to even more people in the local community.
"Kilwinning was the largest, most technically challenging and utmost architectural aesthetic AFA to date and it was a pleasure to complete this project to end the list of AFA's Story have delivered within Networks Rails CP5 Framework contract."
John MacArthur, Managing Director of Story Scotland, said: "We're proud to be supporting Network Rail in the delivery of the Access for All scheme across Scotland, and delighted the works delivered at Kilwinning have been recognised by the Scottish Transport Awards as an example of excellence in improving access to travel and the travel experience for disabled people in Scotland."
The upgrades to the station were one of the biggest to be carried out in Scotland as part of the Department of Transport's 'Access for All scheme', which is an ongoing investment in Scotland's Railway, working closely with Transport Scotland to improve access within stations for people with impaired mobility.
Click the video below to learn more about the project.