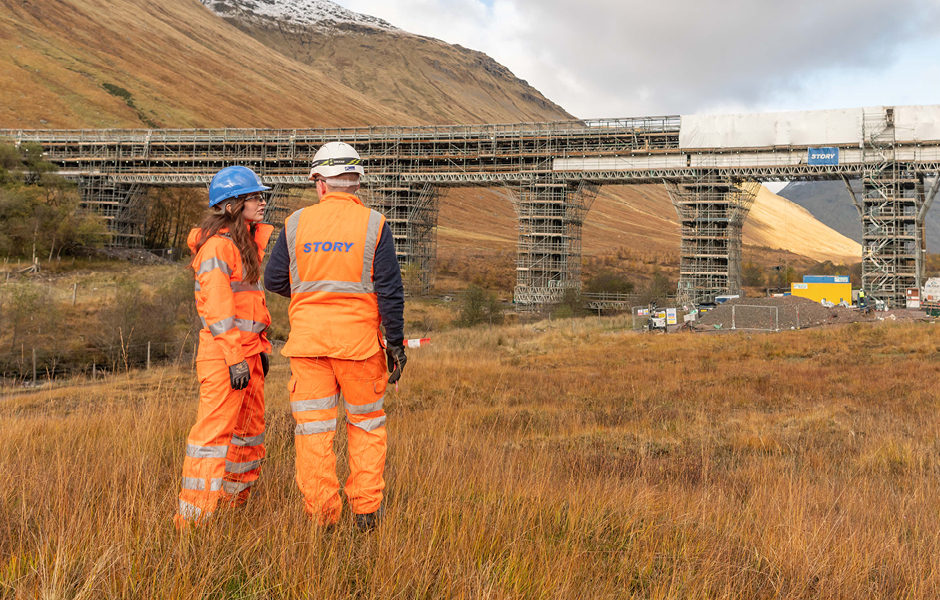 Are you conscientious, self-motivated and enjoy maths?
Due to growth Story Contracting has an exciting opportunity for a Trainee Civil Engineer to join our team.
At Story you will be supported by a welcoming and inclusive team to gain experience of a variety of Construction, Railway and Civils projects. As a Trainee Civil Engineer, you will be learning on the job whilst being a valuable member of the team responsible for assisting in engineering disciplines whilst learning from our site team and will have the opportunity to manage and build client relationships.
You will be provided with extensive on the job training and will be fully supported as you study for a BEng (Hons) Civil Engineering degree part-time for 4 years whilst working as a Trainee Engineer on our sites and in our offices, as part of our Graduate Apprenticeship programme.
The Graduate Apprentice roles will be based from our Story Scotland division, with our office being based in Blantyre. Travel will be required to site, so a driving license will be advantageous. The ideal candidate will have the suitable entry requirements for the University (SQA Highers at AAAB or ABBBB, or A-Levels at ABC or BBB). In addition to this, the ideal candidate will be self-motivated, a team player and driven. Experience in Construction or the Civils environment is not required, as you will learn all of that with Story Scotland.
Alongside full financial sponsorship to gain a recognised qualification, you will receive a competitive starting salary, company pension contributions, help towards healthcare costs, national retail discounts and access to our cycle to work scheme. We also offer flexible working, working from home options, robust career development routes and a fair and inclusive workforce.
Information regarding the course includes:
The BEng (Hons) Graduate Apprenticeship in Civil Engineering is a 4-year programme of study designed for employees selected by their company as displaying the potential to follow an honours degree.
Year 1 of the programme introduces the fundamental subjects associated with some of the key areas of civil engineering. Maths for Civil Engineering is offered to apprentices without Higher Maths or equivalent. This ensures these apprentices will be equipped to cope with the higher level of Maths in Year 2. Apprentices in possession of Higher Maths (or equivalent) are exempt from the Maths for Civil Engineering course.
Year 2 of the programme – to which holders of relevant qualifications (e.g., HNC) and/or relevant work experience can join instead of joining in Year 1 – develops the material covered in Year 1 and introduces new aspects associated with construction management, hydraulics and key civil engineering materials.
Year 3 sees the introduction of fairly advanced topics, with an emphasis on design and application in some of the courses. The key subject area of geotechnics is introduced in this year alongside contracts and procurement and environmental engineering.
In the final (Honours) year 4, apprentices will spend a significant amount of time on work-based project work (both individual and group projects). The geotechnical subjects are advanced to Honours level and advanced structural design is enabled through different courses. An option course is offered in this year too.
If you believe this role is a good fit for you, we look forward to hearing from you.