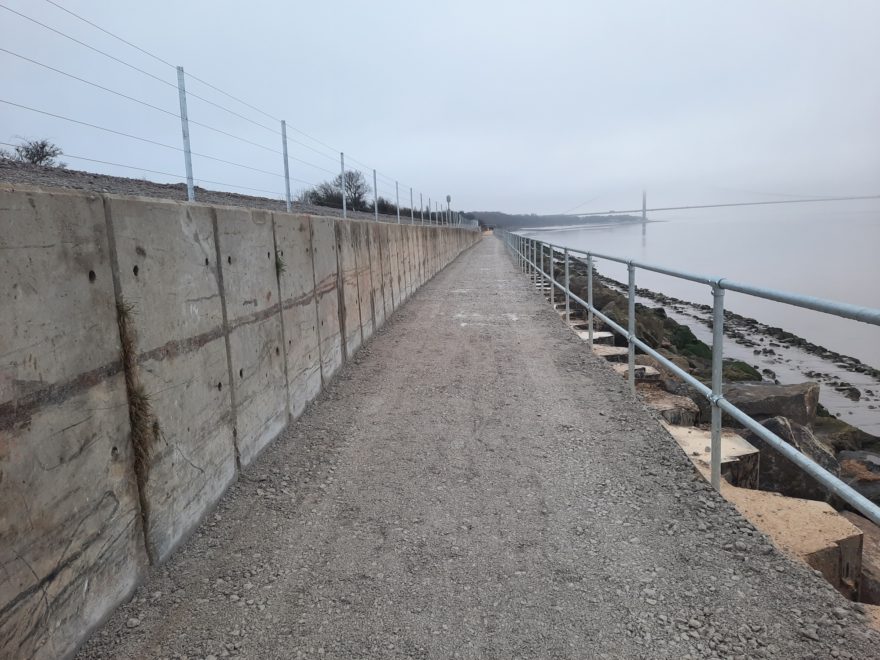 Story Contracting, on behalf of Network Rail, has successfully completed works to protect the railway embankment at Hessle Foreshore in East Yorkshire.
The team, alongside the client Network Rail and subcontractors Keller, have worked around the clock since March 2020 to finish the critical works and reopen the popular footpath which runs between Hessle and North Ferriby.
Over the past ten months, the team have installed a steel coastal defence wall, which is 138m long and around 20m deep. The wall needed to be installed to protect the railway embankment from damage caused by coastal erosion, after ground movement was detected in 2018. The work will enable trains to run reliably and safely for years to come.
In additions to the stabilisation works, the Story team have given time to support the local community as part of company's commitment to being a good neighbour. This included supporting local charity, Riding for the Disabled Charity.
Volunteering their time, members of the site team installed a concrete pad for new stables, fixed sheds, cleared rubbish from the area and replaced all fencing and gates.
Debra Pea, Group Organiser of North Ferriby Riding for the Disabled Group, said: "We as a charity are so grateful to Story. They have really supported us when we needed support the most due to what 2020 has thrown at us. Without Story's support we wouldn't be able to continue. Thank you. Story is by far the best!"
As well as helping the charity, Story is working with East Riding of Yorkshire Council to install benches along the national walking trail in the area, as well as improving biodiversity in the area by installing trees and habitats for reptiles and amphibians.
Samantha McGivern, Countryside Access Officer, East Riding of Yorkshire Council, said: "It has been a pleasure to work with Story Contracting; their contribution of materials and expertise has enabled us to significantly improve this popular stretch of the Yorkshire Wolds Way National Trail and Trans Pennine Trail National Cycle way. A new surface and easy access gates makes the route perfect for walkers, cyclists and wheelchair users.
"We'd like to thank the Story team for their professionalism and determination to 'go the extra' mile in supporting our work to improve the East Riding's public rights of way network."
Matt Kendall, Senior Project Manager for Story Contracting said: "I'm really proud of the team for the hard work that has not only been put into the construction project, but also for the commitment that they have shown to build relationships with the community and make a positive impact on the local area.
"The project was essential to maintain the safe running of the railway and preserve the footpath for years to come. I sincerely hope that the community are pleased with the improvements that we have made."
For more information on the major works at Hessle, please visit: https://www.networkrail.co.uk/news/footpath-reopens-following-major-work-to-protect-railway-from-erosion-in-east-yorkshire/