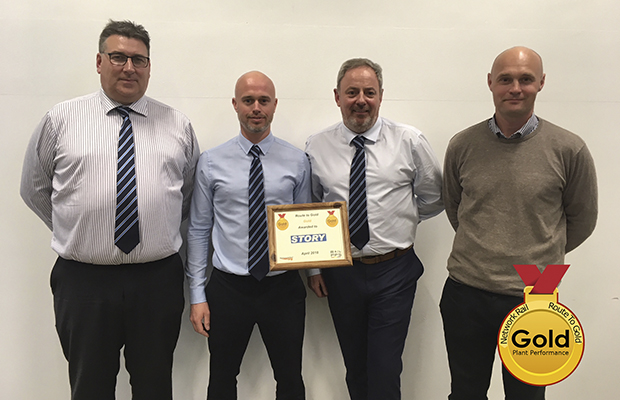 Story Contracting has been named as best performing Network Rail Contractor 2017/18 and Awarded GOLD on Network Rail's Route to Gold.
It's been a great week for Story Contracting, being named as the best performing of all Network Rail's construction contractors based on the PRISM scores and achieving GOLD on Network Rail's Route to Gold for plant reliability.
The PRISM scores are used by Network Rail every four weeks to monitor the delivery performance of its contractors. Companies are scored on a number of different performance criteria, including delivery on time, engineering assurance, health and safety, contract administration and behaviour. Story scored an impressive 4.91 out of 5, well ahead of the second-place contractor who scored 4.68, up to the end of February 2018.
Only Network Rail's principal contractors receive a PRISM score, which means they must be working on a contract that is three months or longer and has a value greater than £50,000.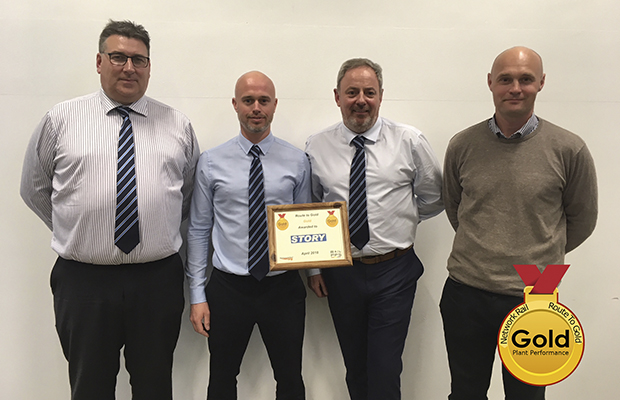 The second achievement of the week was reaching a fantastic milestone, being presented with GOLD in Network Rail's Route to Gold for ongoing commitment to, and performance on, their 'Rail Plant Performance System (RailPPS). Only 1 other supplier in the UK has been awarded GOLD in recognition of reliability statistics, behaviours and continuous improvement. This reinforces the great work Story Contracting is doing and is a huge achievement for the business.
Steve Featherstone, Programme Director Track, Network Rail presented the award and said
"It was a pleasure to present the Gold Award certificate for plant reliability to the Story plant team. It has been great to watch you on your Route to Gold journey. Please pass on a well done and thanks to all of the team who have contributed to this great achievement."
Jason Butterworth, Story Contracting's CEO said "I am proud of our performance for Network Rail and it's great that our commitment and professionalism has shone through with both the PRISM results and achieving GOLD.  We are a family owned business with a very strong culture, and our motto of 'Doing It Right' for our clients, customers and staff is at the heart of all our projects.  This result recognises the passion and hard work of our Story Contracting team working in partnership with Network Rail".