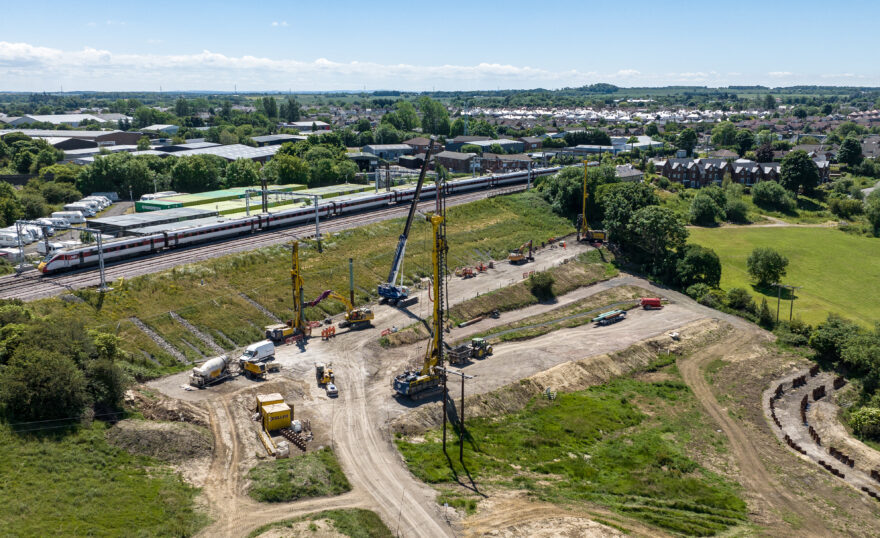 Engineers have successfully completed works to stabilise a 130-year-old railway embankment on the East Coast Mainline, in order to protect the line for years to come. Trains passing on the line in Northumberland have been running at a reduced speed due to earth movements in the embankment which supports the railway.
On behalf of Network Rail, Story Contracting and key supply chain partners at Keller and Pell Frischmann have worked closely together to complete the installation 207No. hillside piles between May and October 2022, which have been necessary in order to stabilise the underlying earthwork failure.
Over the course of the year-long scheme, the team have:
Imported over 14,000t of recycled engineering fill to prepare our haul roads and drilling/piling platforms.
Installed over 1km of inclined drainage to control the water table as part of an interim intervention.
Installed 4650m of re-purposed steel as well as 2054m3 of concrete as part of the long term piled stabilisation.
Jonny Ham, Lead Portfolio Manager for Network Rail's East Coast route, said: "I'm very pleased that this essential work is now complete, allowing the embankment to remain safe with trains running at normal speed once again.
"Passengers travelling on the East Coast Main line can now look forward to smoother, more reliable journeys in Northumberland, and I would like to thank everyone for bearing with us throughout the duration of the project."
Ben Leng, Project Manager said: "I'm very proud to have been part of the team on the project since the start. This scheme really does showcase the brilliant work of our collaborative LNE framework between Network Rail, Story Contracting and our supply chain."
Additionally, the team took their specialist skills and supported another local stabilisation project; the team supported charity Groundwork and community group Friends of Pegswood, volunteering over 200 hours to undertake drainage improvements to the local Pegswood Community Woods to prevent flooding to public footpaths.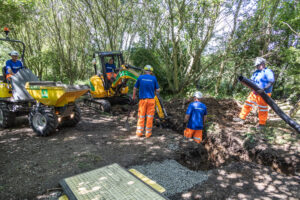 James Stafford from Groundwork, who are in charge of managing the Woods, said: "Story Contracting have been a real help in bringing some needed renovations to the Park, and we really appreciate the input of all involved.
"The path renovations and ditch-work around the lake has stabilised the path and secured it from erosion, and having seen the path flooding in Phase 1 at its height, it is a great relief to know that the walkers in the Park will be able to use the path in winter without this perennial problem.
"At Groundwork we are so grateful for the help, expertise, and generosity of Story Contracting in bringing these renovations to completion. It's a great job they have done, which is appreciated by Groundwork and will be appreciated by park users for years to come."
Watch the video below to see the work in action.