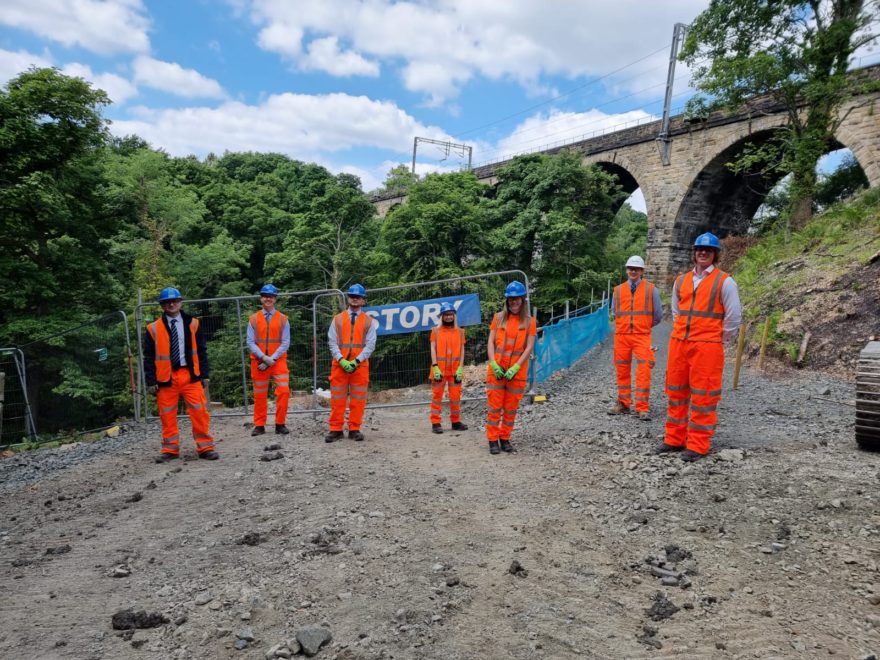 Story Scotland has begun welcoming their 2021 cohort of summer placements, graduate apprentices and graduates, with three new starters joining the team:
Callum Combe, Summer Placement
Findlay Edward, Summer Placement
Daniel Haughey, Graduate Apprentice (Engineer)
Kayla Miller, Trainee Engineer
They will be working their way through a packed schedule of health and safety exercises, courses, and learning the industry through working on the job.
These roles at Story Contracting are important for the business in encouraging the recruitment of future talent within the construction industry, whilst also demonstrating our commitment to The 5% Club.
Read below to learn more about Story's new starters:
Daniel Haughey, Graduate Apprentice (Engineer)
Attraction to Story
I love how family orientated Story is as a business
Job overview
I will be on site 4 days a week and will be attending university 1 day a week.
The best route
The reason I choose to go down the graduate apprentice route is because I feel I learn better on the job and think I would find a working environment better that full time education.
Being a civil engineer
I had already set my sights on being a civil engineer before the my work experience last summer but after being there and learning about all the different parts that go into Story it motivated me even more to go down that route.
Looking forward
I am looking forward to developing my engineering skills.
Findlay Edward, Summer Placement
About you
Findlay Edward, Intern Engineer, studying civil engineering going into my masters at Heriot-Watt University
Becoming an engineer
I am hoping to gain knowledge in the side of the business that I have not so far experienced, and a subject of the business that is not often explored with the courses at my university. Additionally, to that, I am wanting further to experience on what it is like to be an engineer in the day-to-day life as well as the duties and responsibilities that follow.
Attraction to Story
Story was very appealing from the beginning, when I met Graeme McInnes at a careers fair at Heriot-Watt in 2019/2020. The business seemed small and almost like a big family, but was already starting to expand at quite an impressive rate, I knew that with the growth that had already taken place when offered the opportunity for a placement I had to jump on it, and so far I'm glad that I did as I have enjoyed my time here and am excited to see where this company goes in the future.
Inspiration
I love the idea of working on complex, interesting and large-scale jobs, solving puzzles has always been a joy for me and seeing the variety of jobs that I have not begun to experience yet is driving me to become a better engineer so that I can tackle those future problems and I believe that Story will help me to do this. Also having not lived in the UK for a good majority of my life I would love the opportunity to work abroad and must solve the problems that different climates can cause on engineering structures and infrastructure.
Future goals
My future goals include being chartered before I'm 30, and also being one of the top engineers in Europe, I want to be a leader in my field and be at the top of the industry whether those entails working in the UK or Internationally.
Callum Combe, Summer Placement
About me
Callum Combe, Summer Placement, Civil and Environmental Engineering
Becoming a graduate engineer
I am looking to gain insight into the roles of civil engineers in the contracting side of things and by shadowing them on day-to-day basis develop myself as a soon to be graduate engineer.
Attraction to Story
I was attracted to Story as many of their recent projects were directly related to my university learning, I was also attracted to them as they seem to be growing within Scotland whilst other engineering companies are not.
Inspiration
Personally, I think that working as part of a team to provide a certain level of quality on a project would motivate and inspire me to produce my best work.
Future goals
Through my career I hope to develop long lasting relationships with people in different fields of engineering and to eventually gain chartership.
Kayla Miller, Trainee Engineer
About me
Kayla Miller, Trainee Engineer studying Civil Engineering at Heriot-Watt.
Gaining experience
I'm hoping to gain as much hands-on experience as possible in the field rather than just going to University and coming out with not much real life experience.
Attraction to Story
I like how it's a very family orientated company and that Fred Story is still very much involved within the company and how friendly everyone has been.
Inspiration
My friends and family inspire me the most, they've all helped and supported me so much.
Future goals
My future goals are to be successful and happy with what I'm doing, which I hope will be in civil engineering.