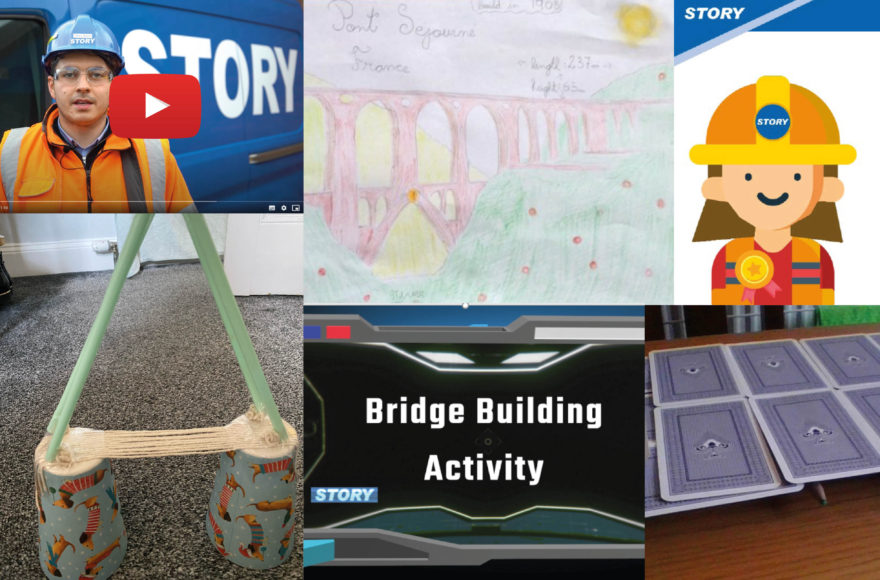 As part of an initiative to encourage young people to consider careers in engineering, Story Contracting have created a new and innovative STEM (Science, Technology, Engineering and Maths) resource to share with primary schools across the UK.
Prior to the Covid-19 pandemic, the award-winning civil engineering company would frequently engage with local schools, running STEM sessions and events with children in the community.
To ensure that these children did not miss out during the pandemic, Story Contracting have transformed their STEM materials into a digital format. Over the last month the Story Scotland division has shared the workshop with over 40 primary schools across the country for teachers to easily adapt into their lesson plans.
Content in the digital workshop includes videos, quizzes and information on the exciting careers available in engineering and safety on the railways, as well as an overview of Story Scotland projects local to each primary school.
Graeme McInnes, Engineering Director, who heads up Story Contracting's talent programme in Scotland added: "The world is constantly changing, the needs of today are very different to what they were 10 years ago and as Civil Engineers, we need to develop to meet these challenges.
"It's so important that we inspire the next generation and bring talented, new engineers into the industry and allow them to develop their innovative and radical ideas. I'm therefore delighted that we have been able to reach out to so many young children across Scotland and highlight the importance of engineering with our online STEM workshop during the pandemic."
The digital STEM session also contains a practical challenge for children to get involved with from home or in the classroom, using materials around the house to build their own bridges.
Ida Bartkiewicz, a teacher from Central Primary School in Inverness,  used the STEM session in her lessons: "The kids loved it so much that we have extended the project for another week. Some would love to be engineers when they grow up.
"Your session has been so inspiring and definitely engaged children with their remote learning."
To find out more about Story Contracting's investment in the local community, click here.