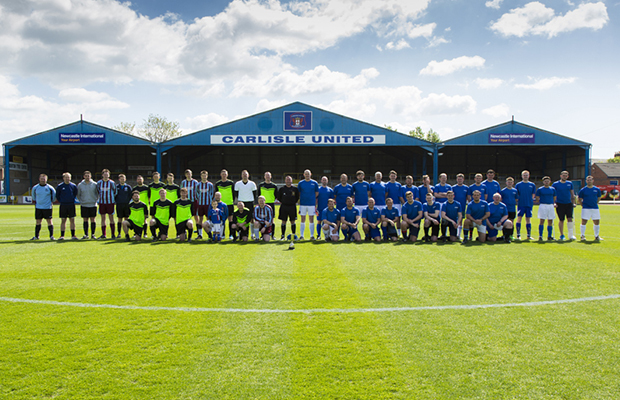 Story Contracting are proud to announce that they will be raising funds for their Charity Partnership 16/17, the Great North Air Ambulance Service (GNNAS).
The chosen charity was voted for by staff and will be supported throughout the year. Fundraising kicked off last weekend with an 'Old Firm Derby' between Story Contracting and Story Homes at Carlisle United football grounds, Brunton Park.
£1000 was raised for Great North Air Ambulance as the two Story companies battled it out for the Story Cup.
Fred Story, founder of Story Homes and Story Contracting said: "The Great North Air Ambulance was voted our Charity Partner 16/17 by our employees and I look forward to supporting my colleagues in fundraising over the year. We've got some fun challenges lined up to raise funds for this admirable organisation while further strengthening our team spirit at the same time."
Colleagues will be encouraged to undertake a wide range of fundraising activities over the next 12 months and have many plans already in the pipeline including Gelt Gladiator, a Story Ryder Cup and lots of cake-eating.
Mandy Drake, Head of Fundraising at GNAAS, said: "It's great to have become Story Contracting's charity of the year. Companies like these really help to raise awareness and spread the word to family, friends and customers about the work that we do. I would like to thank them for their support in helping us to raise the vital £4.5 million every year and wish them all good luck for their fundraising for GNAAS."
The Great North Air Ambulance Service operates 3 helicopters, 365 days a year, across the North-East, North Yorkshire and Cumbria, responding to around 1,000 call outs each year. On board their aircraft are specialist trauma doctors and paramedics, who bring accident and emergency expertise to the scene.
Whether it's in a city centre or a remote mountain, medics respond to wherever they are needed in the shortest space of time. The helicopters are never more than a 15-minute flight from the nearest hospital.