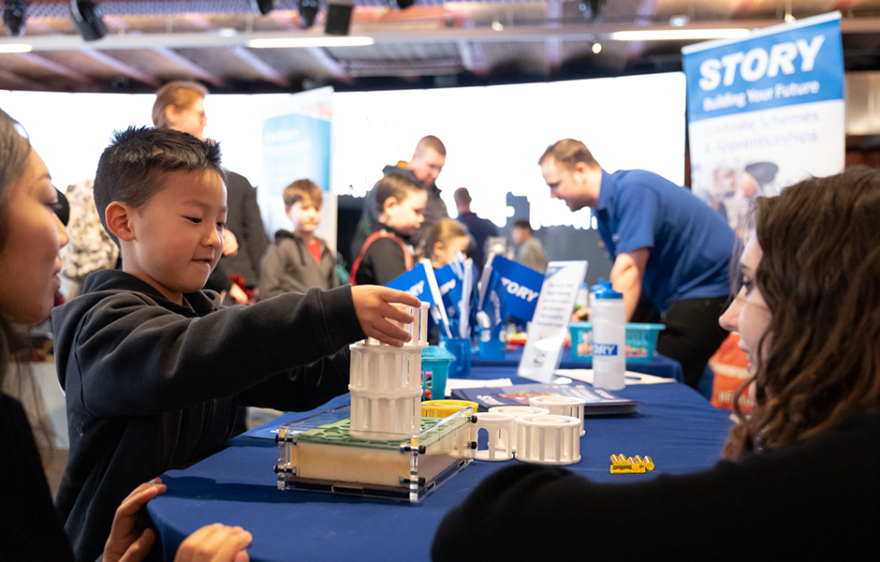 Last week #TeamStory were out in force across the country inspiring and hiring the next generation of Civil Engineers.
Team members from Rail and Story Scotland attended three events in Edinburgh, Carlisle and Manchester:
Heriot-Watt University Careers Fair 
Graeme McInnes, Serge Gomez, Dave Robinson (Early Careers Coordinator), Michael Louden (Project Agent) and Heather Gough (Graduate Engineer) attended the Fair to look for students for Story Scotland's Summer Placement.
Carlisle Skills Fair 
Looking out for future talent to join the Plant and Rail division, Carl Scott, Graeme Lawson (Skilled Operative), Macey Brown (Trainee Estimator), Claire Wise and Marie Whitehead, represented #TeamStory at the event organised by John Stevenson MP.
Manchester Science and Industry STEM event
Rail Graduate Engineers – Hamza Mohamed, Lara Lightfoot and Jacob Fussey – ran a stand at the 'Pi: Platform for Investigation' event, to inspire Manchester's next generation of engineers.
Supported by David Robinson, Early Careers Coordinator, and Megan Savage, Communications and Engagement Partner, the graduates ran interactive STEM activities provided by the Institute of Civil Engineers – North East, including a 'Balancing Bridges' and 'Propping Up Pisa' challenges.
In total over 700 people visited the #TeamStory stand during the event.