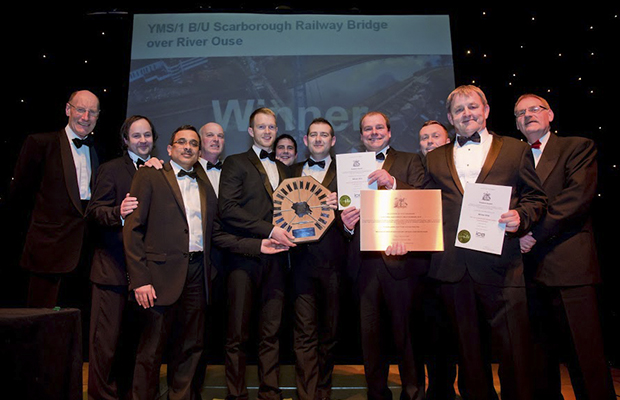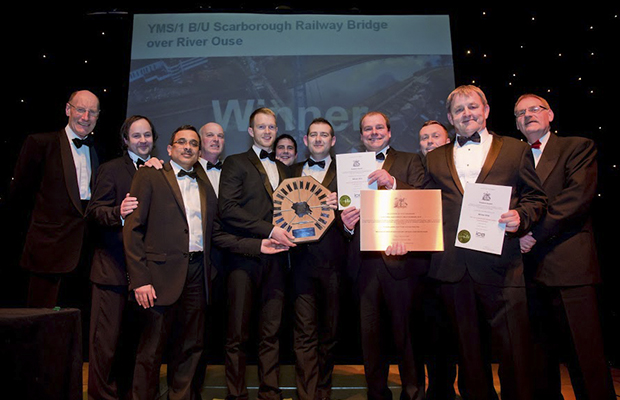 Story Contracting win Institution of Civil Engineering (ICE) Award for the reconstruction of Scarborough Bridge in York. Working together with Network Rail, Story Contracting helped deliver the first significant rebuild to Scarborough Bridge in York since the railway bridge was built in 1875.
This was no ordinary bridge reconstruction. Sitting just 40 metres off the end of Platform 4 at York Station, its location and close proximity to the local residential properties and businesses, along with the restrictions caused by setting up a major project site in the centre of the historic city of York required an exceptional collaborative approach by the project team.
The project beat nine other civil engineering projects to pick up the Smeaton Award (for projects between £500k and £5M) at the ceremony in Sheffield City Hall on Friday night at the annual ICE Yorkshire and Humber Civil Engineering Awards. The regional awards recognise excellence and imaginative concepts in civil engineering practice across the Yorkshire and Humber region where Story Contracting have a plant and rail team based out of their depot in Normanton near Wakefield.
The £6 million project was successfully completed during the nine day Scarborough to Seamer line closure in February 2015 and reopened on time alongside £3 million of further works carried out on the line during this period.
Ian Purdham, Head of Region for Rail at Story Contracting said:
"The project was a huge success. From the planning through to the implementation, the successful delivery of a project of this scale in 9 days and in the centre of York is a real testament to our team's ability to deliver exceptional projects for our clients. This was a great engineering project but not without its challenges. Situated so close to the station and over the river Ouse meant we had to work really closely with local businesses and the general public. However, once the first deck was lifted in the air by our 500T crane, we captured the spirits of the local people, drawing hundreds of onlookers onto nearby bridges and the riverside. By fostering a collaborative working environment with Network Rail and our supply chain, and the open lines of communication with all the stakeholders, it shows that even the most difficult of schemes can be completed in the least disruptive way."