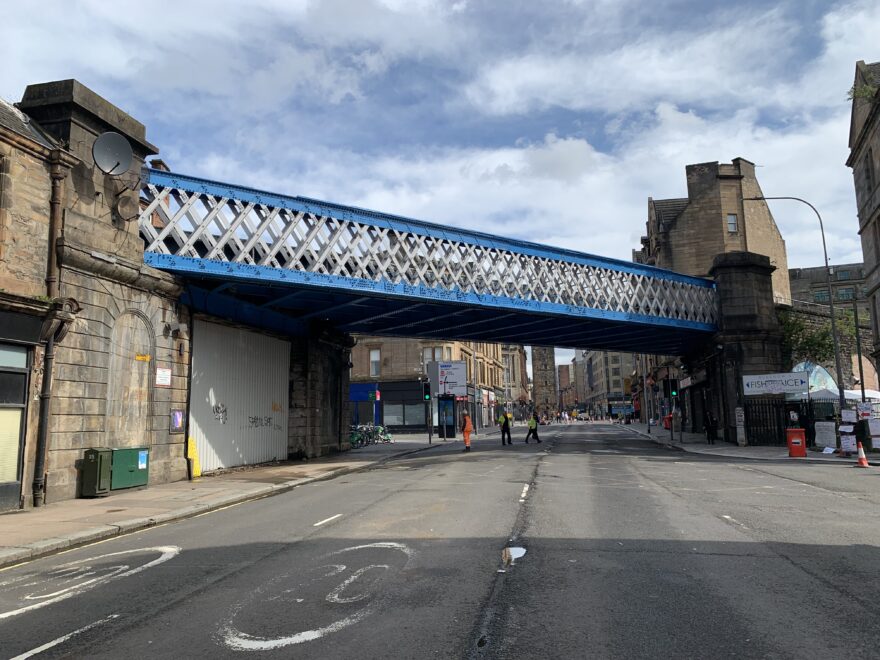 On behalf of Network Rail, Story Contracting have delivered a £3.8 million programme of refurbishment work to the rail bridge spanning the A8 at Saltmarket near Glasgow Cross.
Working as Principal Contractor for Network Rail, Story delivered the refurbishment work as part of a wider programme to maintain and enhance bridges and tunnels across Scotland's Railway.
The team worked 20,000 hours and added several tonnes of steelwork to strengthen and repair the bridge before painting the entire structure. They also replaced more than 1000 steel rivets along the top of the bridge girders and brought the project to completion early.
Owen Ferry, Network Rail Project Manager, said: "One of the main challenges of delivering work at Saltmarket is the busy city location, as there are more than four and a half thousand residencies in a 500-metre radius of the bridge.
"From an early stage of the project, we engaged with the local community; after listening to their concerns about the rivet busting which is one of the noisier elements of the work, we revisited our work programme.
"We liaised with ScotRail who agreed the railway could be closed during the day which allowed us to greatly reduce the amount of overnight work required through the week.
"The team has done a first-class job in renewing the bridge and finishing the work ahead of schedule, as we weren't due to be off-sit until late August.
"I want to thank the community and local businesses for their understanding while we completed this vital improvement to the rail network."
Extending the lifespan of the bridge helps to ensure the delivery of a safe and reliable railway and means it will not require work on this scale for another twenty years.
With the project finished, the single lane closure and traffic management measures in place at Saltmarket are fully removed.
The project is part of a wide-ranging bridge modernisation programme aimed at protecting and improving Scotland's Railway, with over £4 billion being invested to increase reliability and improve performance.