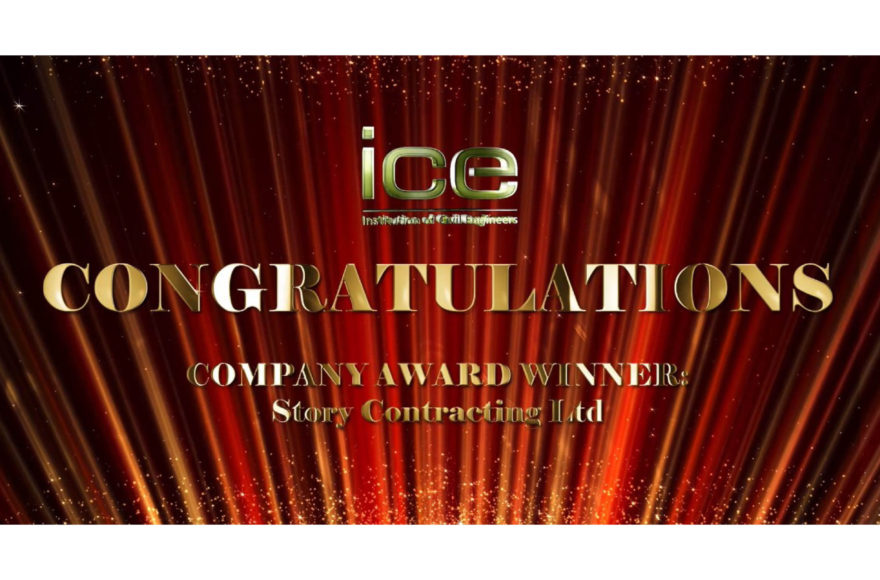 Story Contracting have been revealed as the winners of a prestigious civil engineering award.
During a virtual ceremony on March 5, the Institution of Civil Engineers (ICE) announced that Story had been chosen as Company of the Year in its 2021 Yorkshire and Humber Awards.
The awards are held annually to showcase the outstanding work done during the past year by civil engineers in the Yorkshire and Humber Region.
Dan Jones, Operations Director (Eastern) from Story Contracting, said: "I'm delighted that our hard working, diligent and agile team has been recognised with this prestigious award. I am incredibly proud of them all.
"Despite the challenges we've faced during the pandemic, the past year has been hugely successful for our team. There's been significant growth within our Rail team and in Story Contracting more widely, which has seen us deliver Network Rail's CP6 Framework in the Eastern region.
"Throughout these projects, we are proud to have delivered on our commitment to always 'do it right' in everything we do, including bringing benefits to the local communities in which we work, stimulating interest in civil engineering among young people and continuing our investment in the next generation of young engineers."
Work to stabilise the embankment supporting the Hull to Selby railway line was also recognised during the event.
The Hessle Foreshore Stabilisation Works received a commendation in the Centenary Award, which acknowledges excellence in civil engineering for work constructed in the Yorkshire and Humber region.
Completed in early 2021, Story Contracting and sub-contractor Keller, delivered a long-term solution to stabilise the foreshore after track monitoring had found that the railway line at Hessle was creeping towards the Humber Estuary.
Dan said: "We are also pleased that our work at Hessle Foreshore has been recognised. This project highlights just how important the works of civil engineers are to safeguard our railways and our public. We are proud to have played our part in future proofing the area for years to come".
Graduate Engineer, Lara Lightfoot, who worked on the Hessle Foreshore project was also recognised in the same Awards as a STEM Ambassador of the Year.
This award honours individuals who have shown outstanding commitment to the industry by giving their own time to inspire the next generation of civil engineers.
Lara said: "I'm very proud to be recognised in the ICE STEM Ambassador Award, and as part of the team who worked on Hessle Foreshore. I'm thankful for all of the support I've received that has allowed me to (hopefully!) inspire the future generation to take up careers in the railway and in engineering."
Penny Marshall, ICE Yorkshire and Humber Regional Director, said: "We are delighted to recognise the great work that Story Contracting has done in getting the message about civil engineering to young people.
"Civil Engineering is a fantastic career, and their outreach helps more people understand the role civil engineers can play in making our world better for everyone. Very well done!"