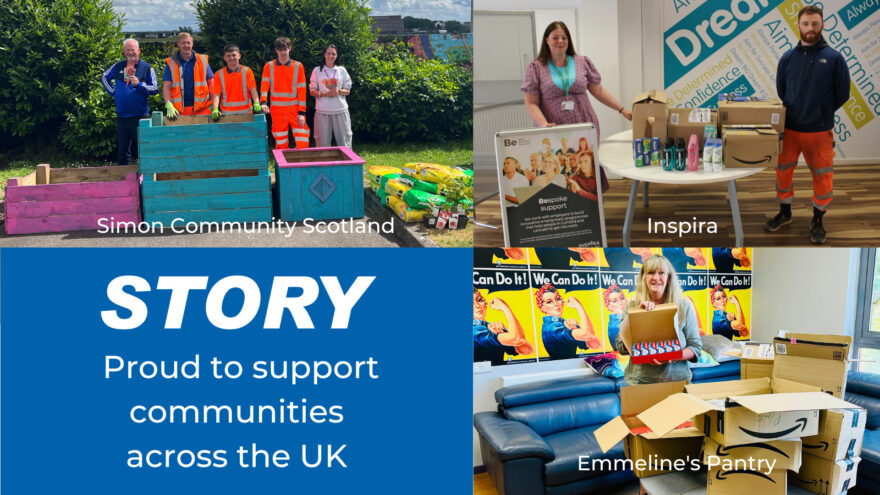 Story Contracting has donated a total of £9,000 to nine charities across the UK.
The charities, which sit across the businesses' regional operating areas, received a donation as part of Story's commitment to support local people and communities.
The charities who received a donation are:
Cumbria:
Chorley and Manchester:
Yorkshire:
Tees Valley:
Birmingham:
Scotland:
For a number of the charities, Story purchase much needed items including toiletries for Inspira's 'interview ready kits', food parcels for Emmeline's Pantry, gardening equipment for Simon Community and essential IT equipment for training ex-offenders / care leavers at New Leaf.
Susan Watkins, Area Manager for Inspira said: "The generosity shown by Story Contracting means we are able to offer our customers some practical help and a little pick me up when they have a job interview arranged. We all know how daunting it can be going for an interview.
"These interview ready bags give us a chance to say well done for getting this far. The customer then has everything they need to present themselves to employers in the best light and put a tick in their self-confidence box."
Leonie Brown from 42nd Street said: "Thanks so much for your generous donation. Young people and the charity are experiencing increased pressures and so support from people like you makes such a huge difference."
Emma Rogerson from Carlisle Youth Zone said: "Thank you so very much, please know that your support makes a considerable difference to the support we can offer to young people and isn't taken for granted."
Emmeline's Pantry said: "Thank you so much for the amazing stock delivery. Your help is gratefully accepted, we have got so busy recently and I'm sure numbers will keep rising. This will help so much to stock us up with what we need."