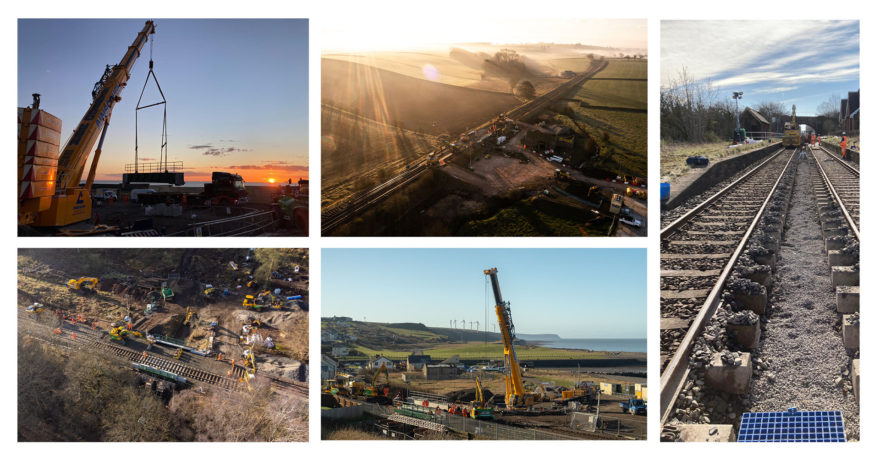 As many will be aware, March has been an extremely busy period for our business and more so across the North-West where we have seen months of upfront planning come together and follow through to the successful delivery 5no Core Work projects delivered during disruptive possessions. The following provides a snapshot of what has been delivered:
Week 49 / 4th – 7th March – (54hr)
Ropery – Our first in a series of 3no reconstructions in 4 weeks was completed out on the Cumbria coastline at Harrington.
Week 51 / 18th – 21st March – (54hr)
Pheasants Drive – Reconstruction of the U/B on the Settle to Carlisle Line utilising Kirow crane, where the project team overcame logistical constraints and delivered the core precast and deck materials via rail.
SAC Cumwhinton Cutting – The same weekend saw the Earthworks team deliver greater than planned outputs of 6ft and Cess drainage at the earthworks site just outside of Carlisle. A fantastic achievement, setting a high standard and expectation for Week 52. Furthermore, to this, the team has been praised by our client, Network Rail for the standard-setting QITP management on the project.
Week 52 / 25th – 28th March 54hr
Moorbeast UB Reconstruction – This saw the North-West structures team complete the series of underbridge recons in a short space of time at Moorbeast. Again, the team's effort and commitment throughout, shone in the result, handing back a new asset to our client safely, to a high standard, and on time.
Pheasants Drive – In conjunction with the above, our team continued the follow-up works at Pheasant's drive completing the stress and weld of the track along with some ancillary close-out works.
Week 51 – 52 / 20th – 27th March – 7 Day Blockade
Meanwhile whilst the above core weekends were deeply involved in planning and delivery, we carried out our first Permanent Way project for TfGM in Manchester Piccadilly Station. This project involved the re-rail and re-baseplate of the Inbound and Outbound lines within the under-croft (tunnel) beneath Manchester Piccadilly.
The project was supported by 1st in Rial our supplier and was managed and supported by both project teams and operatives from Story England. Upon completion, the worksite was handed back on time with the first passage of the test tram successfully completing the initial test route of both lines by 02:57 am on Sunday morning.
Again, a fantastic, accident/incident-free delivered possession where a safety audit mid-delivery was carried out by an independent party resulting in a score of 94.5%.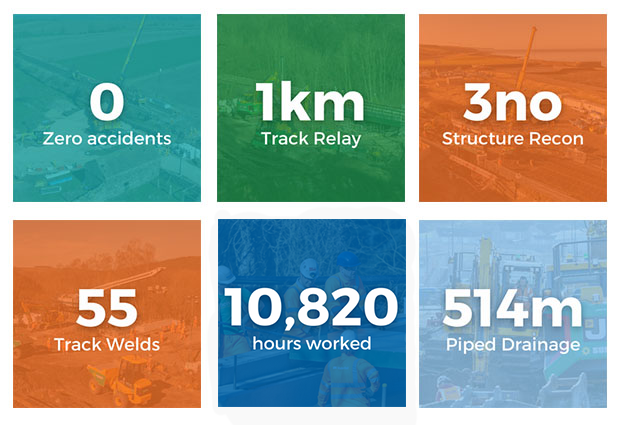 Below are some of our team's and clients' testimonials:
"Considering the above volume of work added to our existing projects in delivery such as Woodside, Mersey Travel Platforms, etc, I am immensely proud of the team across the full region and our wider teams in both Rail, Construction, Story Plant, and our supply chain partners in coming together. There have been challenges, however, they have not phased our resilient team and ultimately puts us in a good position with two important clients for our region. Well done and I hope you all have a chance to rest, recharge, and go again for what is to be another busy year for North-West." – Jonny Fearon, Contracts Manager
 " It seems like everything has been in hand and the team has done an outstanding job. Fantastic news and a big well done to the whole team." – Kathryn Berry, Project Manager, Network Rail
''I would like to pass my appreciation on to the site team who went the extra mile over and beyond whether it be the days or night shift to progress the works.'' – Mark Astley, Scheme Project Manager
"My thanks to the full delivery team including suppliers who made this happen on site." – Marc Armstrong, Scheme Project Manager
"Off the back of the weekend's core works at Ropery, I would like to acknowledge the great work that the Story Contracting team and subcontractors completed. Not without its challenges, the delivery of the scheme was delivered in a professional, controlled, and most importantly safe manner." – Keith Sanderson, Construction Manager, Network Rail