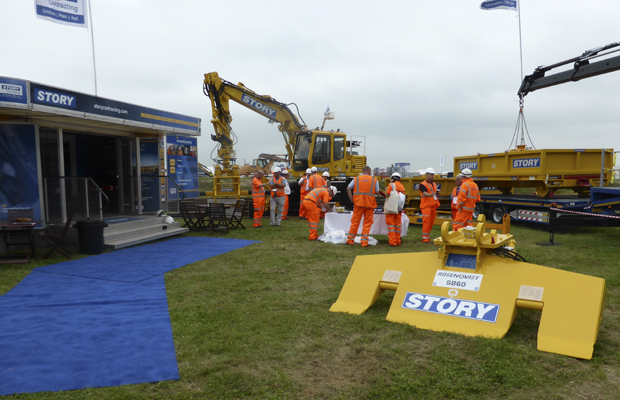 Story's Plant Division exhibited at the Rail Live the National Track Plant Exhibition, one of the largest outdoor rail events in the UK. The two day event, held at Long Marsden in Warwickshire was the second held by Network Rail, the Rail Alliance and Rail Media Group.
Over 20 companies exhibited from supply chain products to various services across the industry demonstrating innovations on track, electrification, asset management services, signalling and telecoms.
The expanded show included:
Rail and road connected exhibition area demonstrating rail infrastructure
Live demonstrations of innovative working methods
Practical demonstrations of equipment
Opportunities to meet customers and suppliers face to face
Educational experiences
Steve Featherstone, Programme Director Track, Infrastructure Projects, Network Rail said:
"The event is all about showcasing solutions to the challenges we face on the railway. Hopefully over 5,000 railway colleagues attended and took away solutions to problems that they have. If everybody just takes away one new idea we will have added a lot of value to the railway."
The two day event at Long Marsden in Warwickshire saw suppliers from all aspects of the infrastructure business come together to learn more about how to drive efficiencies, breed quality and build upon reliability in their businesses.
Tony Cook, Plant Director at Story Contracting said:
"We were thrilled at the overall feeling of positivity that is out there in the industry at the moment and the interest we received in our capabilities, machinery and the Story team was fantastic.
Not only was the weather fine, but the overall atmosphere when walking the vast stretches of the exhibition was brilliant. The Story team had a fantastic time exhibiting at the event and look forward to taking part in the next Rail Live event."