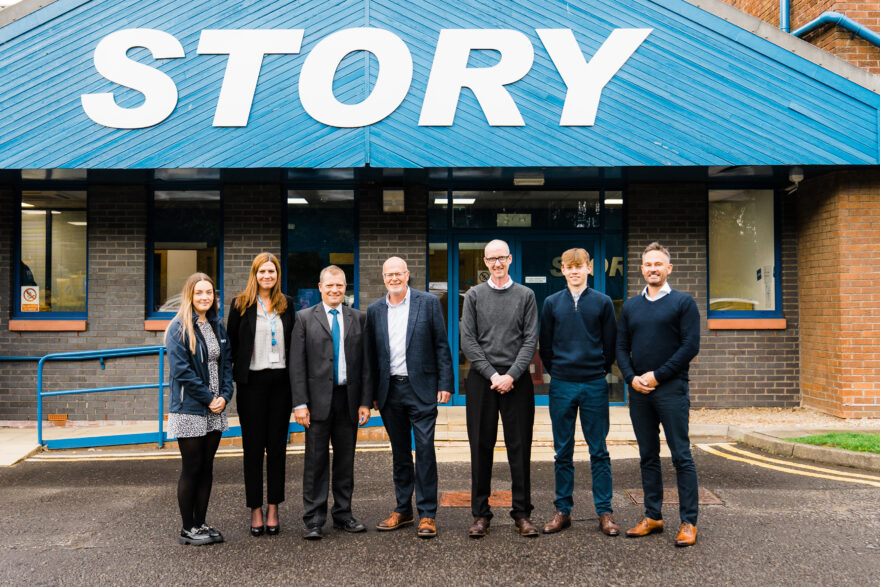 Last week, Story Contracting welcomed Graham Simpson, MSP for Central Scotland, to its regional HQ in Blantyre, Glasgow.
The company is celebrating an exciting period of growth, with over 60 job roles created in Scotland in 2022 so far and regional turnover expected to reach £65million by the end of this financial year. This has enabled continued investment in graduate apprenticeship and trainee programmes which are imperative to create opportunities for young people and support the industry skills gap.
Following a meet and greet with the Story team, including current graduate apprentice colleagues, a tour of the office space and fleet of machinery displayed in the plant yard, Mr Simpson then paid a visit to Ravenscraig to see a Story Contracting project in action.
The work at Ravenscraig, on behalf of Network Rail and North Lanarkshire Council involves the construction of a 6000-tonne underbridge structure which will be driven into its final position beneath the West Coast Mainline using self-propelled modular transporters in Spring 2023.
Once in place, the bridge allows the Council to build a new dual carriageway, as part of a wider programme to open up the area for future development.
John MacArthur, Managing Director, Story Contracting (Story Scotland) said: "It was a pleasure to host Graham Simpson at our office in Blantyre where we had the opportunity to discuss the challenges facing local businesses under the current economic climate, and how Government could help stimulate future growth and investment.
"Our site team at Ravenscraig were delighted to showcase the exciting new underbridge construction which will support the ongoing regeneration of the former steelworks site."
MSP for Central Scotland, Graham Simpson said: "The Ravenscraig underbridge being constructed by Network Rail and Story Contracting is hugely impressive. It will facilitate a new link road into the Ravenscraig site and help to develop that part of North Lanarkshire.
"At 6000 tonnes, it will be the heaviest bridge to have been lifted into place in Europe. I'm looking forward to seeing that happen. Network Rail and Story together are doing some great civil engineering work throughout Scotland.
"I was also very impressed with their programme of taking on student apprentices, giving them a job while putting them through university. That has to be the way forward for a lot of companies."