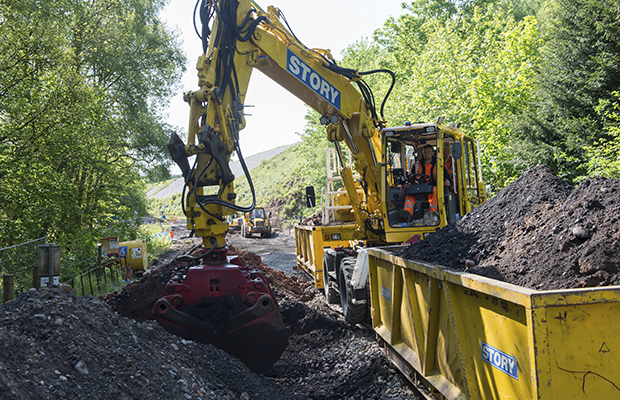 Just four weeks after taking over as the new chief executive of Story Contracting, Jason Butterworth (Pictured below) said he was enjoying his return to the rail industry.
'Some of the people have changed, some of the structures have changed but the basic principles haven't,' says Jason, who had spent 15 years in the industry prior to joining Balfour Beatty in 2014. What was it that brought him back? The company's founder and chairman, Fred Story, had a lot to do with it. 'Fred's authenticity, transparency and honesty is reflected in the grounded and passionate staff that work at Story. It is real and refreshing.'
Nimble Business
Story Contracting's business operates in the rail and construction markets and is supported by its own plant division. The plant division, which has a fleet of more than 70 RRVs, and a large labour resource have given the company the flexibility to take on a series of challenging rail projects in recent years. Separately, the contracting business launched a new house-building division last year, Reiver Homes, with homes already sold in Dumfries and Galloway.
'The business is nimble, and this means that if a client like Network Rail or Cumbria County Council needs us to help, needs us to step up and provide solutions, we can draw on our own plant fleet, and manpower from our Construction division, and bring it to bear on the project. Most of our staff are multi-skilled, enabling us to respond when needed.'
Jason is currently visiting Story project sites around the country. One of his first stops was Eden Brows, where Story is helping Network Rail to reinstate a section of the Settle and Carlisle Railway north of Armathwaite which was destabilised by Storm Desmond last year. The line is due to reopen in March.
Story, which will celebrate its 30th birthday this year, is also involved in several large schemes that are just getting underway. The company is the principal contractor for Network Rail on the Wirral line track renewal project of the Merseyrail underground loop which began at the start of January. This is the final phase of a renewal project which began in 2005 and will be carried out up until June. It will involve the breaking down and replacement of 1.2 km of slab track, including the installation of new base plates and new running rails.
Story estimates that the contracting business will grow by 30 per cent this year and in November 2016, the company opened a 25,000 sq ft extension of its headquarters in Carlisle to support this ambition.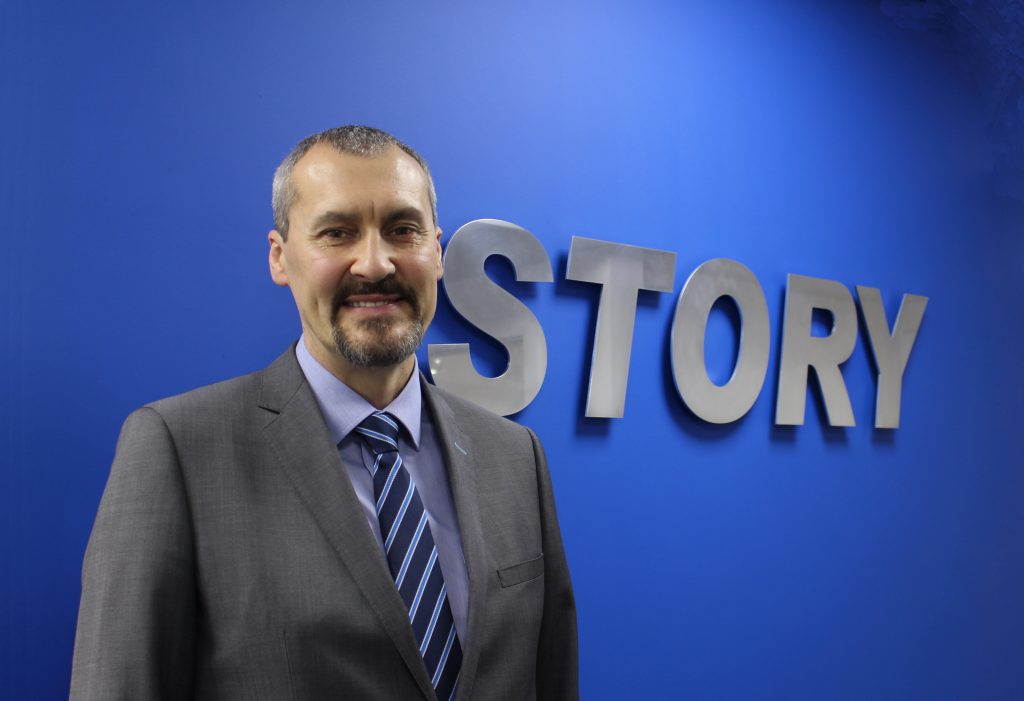 It's not only Cumbria where the business is expanding. Story has offices in Chorley and a depot in Leeds, and is planning on merging its two offices in Scotland to build a combined depot and office hub located on the Central Belt. However, Jason is mindful that, as Story grows, it doesn't dilute the culture that has made it successful.
Attracting Talent
One of the company's biggest challenges in 2017 will be recruitment, says Jason, as it looks to employ around 100 additional people over the next 12 months. 'We're putting the investment in to attract more talent with the right cultural characteristics that believe in our values and behaviours,' he insisted. 'This helps us all achieve the standards that are expected by our business and clients.'
Although Story has its own training centre in Carlisle, it is planning to work more closely with local further and higher education providers. In particular, the company hopes to put together academic programmes with universities and colleges near to its regional bases to allow trainees to stay close to their projects and teams – an approach which will aid the recruitment and retention of candidates.
A particular focus will also be put on apprentices, says Jason, who began his career as a building services engineering apprentice 30 years ago. Much has changed since then, he believes. Apprentices and graduates are more technologically savvy than they used to be and have more choice as to where to begin their career.
'Style of leadership is critical,' says Jason. 'Young talent want real engagement and, quite rightly, have demanding career aspirations. Emotional intelligence has to be embedded into your toolkit.'
With so many employers out to attract the best new talent, companies now need to demonstrate that they will put the professional development of their employees first, says Jason. It's an objective that benefits everyone, especially the industry itself.
'I really believe in investing back into an industry. I am passionate about that and want to make sure that the best talent is attracted into it. As the CEO of a great brand, I have an excellent opportunity to do this. We want to be the employer of choice and to do that we have to be able to offer the best opportunities.'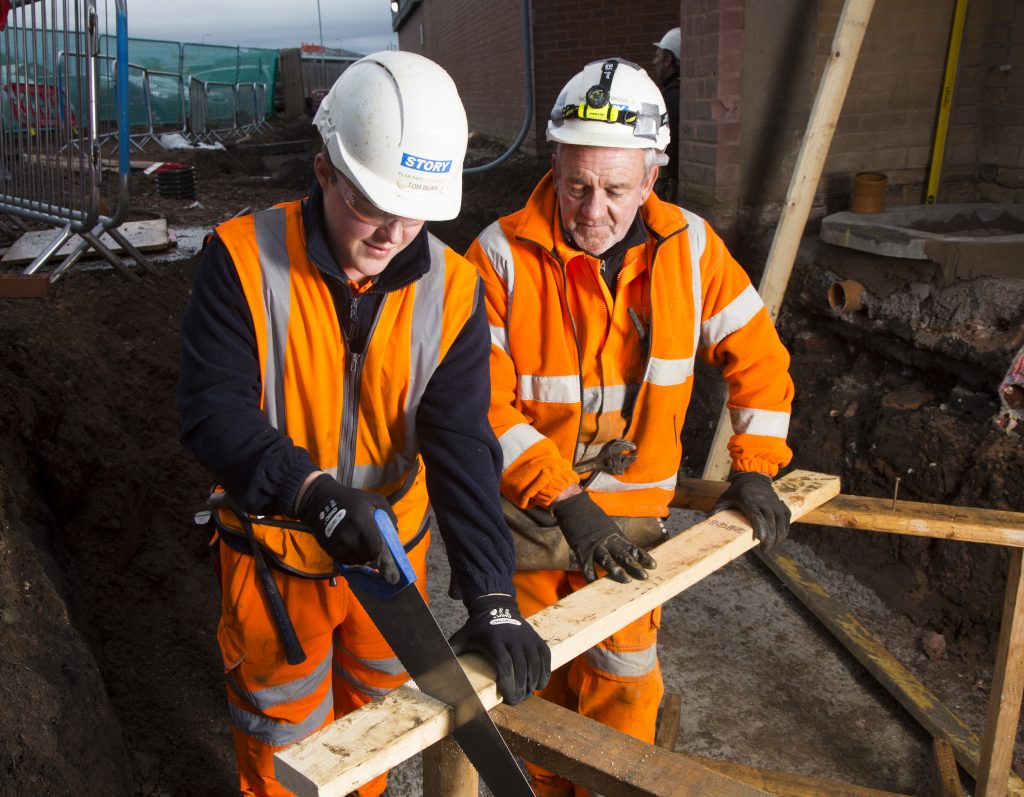 Safety and Sustainability
Having held board positions for the past 15 years within the likes of WSP, McNicholas and Balfour Beatty, Jason is used to overseeing large geographic regions and sizeable teams, but, within just a few weeks, he has begun to understand some of the additional responsibilities of his new CEO role.
Health and safety will remain a central priority, says Jason. He explained how Story was rolling out a behavioural safety programme to build on the company's existing standards and good performance.
'The vision is much longer term than it has been in my previous roles for future- proofing the entire business, making it sustainable and making a difference to the railway industry.'
Jason is also keen to refine the organisation's governance and procedures, particularly around estimating and bid management. He wants to retain its entrepreneurial spirit but within a controlled growth plan.
However, Jason believes his biggest responsibility will be to continue the positive work the business has done to date. 'The Story brand is really, really strong. Customer feedback that I've had so far is outstanding in terms of our passion, commitment and ability to finish work within budget and on time. Our culture and the way we do business at Story is what sets us apart from our competitors and it is important that I help nurture this during our period of growth.'
Via RailStaff