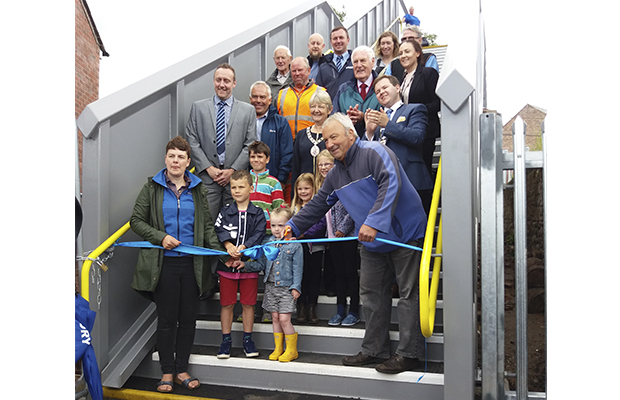 Story have recently been carrying out a project for Network Rail to replace Gilwilly footbridge, with a new structure which will provide safe access over the railway for years to come, with the new bridge officially opening today (Friday 28 July), 3 days earlier than expected.
Story were joined by Network Rail, the Mayor, members of Eden District Council and local residents on the Castletown side of the bridge to mark the occasion.
Work started to replace the original footbridge in April 2017, with the new footbridge, which carries local people over the busy West Coast main line, being lifted into place on 15 July.
"We're delighted to see the bridge reopened which connects the Castletown residents back to the other side of town – with no more detours!" Mary Robinson, Chairman of the District Council
"I'd like to thank local residents for their patience while the footbridge was closed while we carried out this essential work. Not only did we have to remove the old pedestrian footbridge and install the new steel footbridge, we also had to make some important alterations to the overhead line equipment which powers the trains."
"I am delighted that the work is now complete and residents can use this new footbridge to cross the railway safely." Helena Povah, Project Scheme Sponsor, Network Rail
"Thank you Story Contracting and Network Rail for helping build bridges in Penrith!" Scott Jackson, Mayor of Penrith