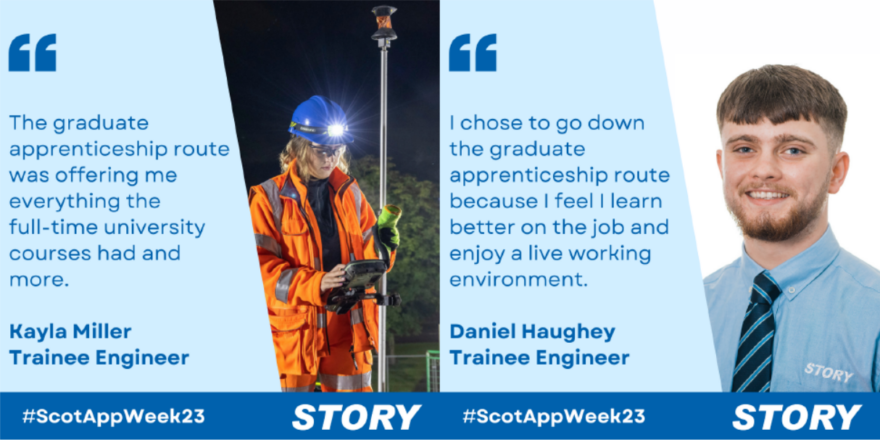 As part of our commitment to invest in future generations, we're celebrating this year's Scottish Apprenticeship week by sharing two of our Graduate Apprentice Engineers trainee journeys so far.
Kayla Miller and Daniel Haughey are both gaining hands on experience on live sites across Scotland whilst working towards their civil engineering degrees.
What attracted you most about the Graduate Apprenticeship route?
Kayla: This route offers me everything the full-time university courses had and more. I'm still gaining a full civil engineering degree at the end of my course, but I'm also gaining site experience alongside studying. Not only am I getting hands on experience, I'm also getting paid to learn. This was one of the main factors that attracted me to the role.
Daniel: The reason I choose to go down the graduate apprentice route is because I feel I learn better on the job and enjoy a working environment better that full time education. I learn more by actually doing stuff rather than sitting in a classroom and it's easier to get a grasp of certain kind of works by actually seeing it in person.
How do you balance work and studies?
Kayla: Story has been great throughout my time on the programme. They are very generous in giving time to study for university especially around exam time. Getting help whilst on site is always easy to find, and there's no such thing as a silly question. My work-based mentor for university is also there to assist me with any degree-related queries.
What would you say to someone thinking about applying for a Graduate Apprenticeship role? And why should employers invest in this route?
Daniel: I would highly recommend it! Being able to get experience on live worksites whilst working towards a degree at the same time, I personally feel, is the best route. For employers thinking about bringing apprentices on, it gives the company the chance to develop a person in the way your company works while also getting an enthusiastic worker who wants to learn.
What is your proudest achievement to date in your role?
Kayla: My proudest achievement so far at Story has been talking with other young women who are interested in getting into the construction industry. The representation for women in construction is small, and I appreciate showing young women what their day could look like if they chose to pursue a career in construction.
What are you most looking forward to learning from your new role? 
Daniel: I am looking forward to developing my engineering skills and understanding of how projects work. Throughout my time with Story, I have worked on several different sites. I'm currently working on an Access for All Scheme at Port Glasgow Station which I'm really looking forward to as it's something new for me.
To find out more about how Story invest in future talent within our industry, click here: https://www.storycontracting.com/jobs/early-careers/